Gum disease treatment in Sunshine Coast at Buderim Dental Care
Gum disease treatment in Sunshine Coast at Buderim Dental Care
The initial stage of gum disease is known as gingivitis. Failing to take proper care of oral health after gingivitis may cause severe gum infection, known as periodontitis. Gum diseases are caused by plaque formation in the gum line and cavities between teeth. Over time the plaque hardens referred to as tartar or calculus.
At Buderim Dental Care, we treat all types of dental issues, including gum diseases. We promote preventive dentistry and ensure that our patients practise good oral care at home because periodontitis is preventable.
What are the leading causes of gum disease?
The teeth are connected to the gums at a much lower point that is not easily visible to our eyes. There is a small space here at the end of the connection, known as the sulcus. When plaque and food get entombed in this space, it causes gum disease.
Plaque is a thin layer of bacteria formed over your teeth. It soon hardens to form tartar, and when this tartar goes below the gum line, then your gums get inflamed. When left untreated, gingivitis will cause the gums to separate from the teeth. The teeth become unstable and loose. As the infection grows, you will begin losing your teeth, or the condition will be so bad that the tooth/teeth will have to be removed by a dentist.
What are the signs and symptoms of gum disease?
What are the signs and symptoms of gum disease?
A patient having gum disease may not show any signs or symptoms till the condition is at its advanced stage. Some of the symptoms that one may notice are as below:
Bad smell/breath from the mouth that won't go away
Inflamed gums or tender and swollen gums
Bleeding while brushing and flossing
Pain while biting and chewing food
Formation of pus between teeth
Sensitive and loose teeth
It would help if you did not ignore these symptoms, and you must get in touch with our expert dentists at Buderim Dental Care. Our team of caring dentists will help in fixing the gum problems.
The three stages of gum disease
Gum disease advances in three stages:
The symptoms surface slowly and are mostly painless. However, when the gum disease is at its advanced stage, the pain can be excruciating.
Gingivitis is the first stage of gum disease. The plaque build-up at the gum line causes inflammation of the gums. The patients may also face bleeding from their gums while brushing and flossing their teeth. Gum disease at this stage is possible to treat and prevent from getting worse. The connective tissue and the bone holding the teeth are not affected, which means the expert dentists can treat it quickly. Our team of gentle doctors is skilled at treating gum diseases and will help you fix this issue.
If gingivitis is left untreated, it gets worse and advances into the periodontitis stage. In this stage, the supporting bones and fibers that bind your teeth to the gums get damaged. The loosened gums then form pockets where food particles and plaque build-up. Our skilled dentists at Buderim Dental Care will advise you with the treatment to solve your problem.
In the advanced periodontitis stage the fibers and supporting bones holding your teeth are completely damaged. The gums become loose, and your teeth will be loose and fall. It will also affect your appearance, biting function, and speech too. Our doctor will try their best to save your teeth with the right treatment. If you have already lost teeth, we can offer restorative dentistry to help you get a natural look again.
You can learn more about the treatments that will work for the gum disease stage you have in our free consultation with our dentist.
What can all dental problems be associated with gum disease?
Tartar can cause severe damage to your teeth. Here are some injuries that people with gum disease may face:
The bacteria present in the plaque can easily damage the enamel of your tooth/teeth. This decay forms cavities, which leads to infection and slowly leads to tooth loss.
Tartar build-up and decaying teeth together cause your breath to smell bad. Bad breath caused because of gum disease is constant and will go away after proper treatment.
As the enamel of teeth wears away, the teeth tend to get sensitive. On consuming hot or cold food, you will experience sensitivity.
Loose teeth and dental equipment
Loose teeth and dental equipment
When gums begin to recede, the teeth become loose, and even the dental equipment you already have will also be affected.
Gum disease treatment in Buderim Dental Care
Gum diseases have three stages where it proceeds slowly and then aggressively attacks the gums as time goes by. You can prevent this gum disease by reporting it at an early stage.
Our dentists check every small dental issue and make sure we treat it before it becomes a significant issue. During each dental visit, our brilliant dentists make sure that we clean our patients' teeth well and get rid of the plaque and tartar, if any.
If you have existing gum diseases or problems, we will do a thorough analysis of your condition. If needed, our experienced dentists will perform a deep cleaning of your teeth with specialized instruments. Once tartar is removed from your teeth, our dentists will provide a routine to ensure that you maintain good oral hygiene.
What is the Cost of Treating Gum Disease?
What is the Cost of Treating Gum Disease?
The cost of treatment usually depends on the stage of gum disease of the patient. Our expert dentists will evaluate your condition during the consultation session first to determine your condition's severity. After this, they will offer you treatments accordingly, and then we may be able to give you a more accurate figure for the treatment of your gum disease. On average, the cost of treating gum disease begins from $200 to $500.
5 Key Reasons Sunshine Coast Locals Choose Us
Creating Amazing Experiences
---
Get your smile and confidence back, Your smile and comfort is of utmost important to us.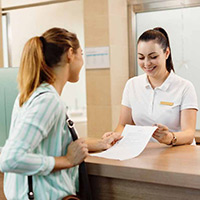 We make You Feel Delighted
---
Passionate team with customer care second to none.
We Take The Fear And Pain Out Of Dentistry
---
Sleep through your dental fears and anxiety.
Interest Free Payment Plans
Interest Free Payment Plans
Making Dentistry Affordable
---
Health fund claim, Super easy application
No-Obligation Consultations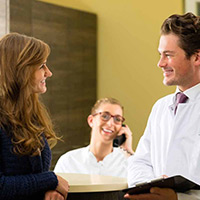 No-Obligation Consultations
Making High-Quality Dentistry Accessible To All
---
Free Cosmetic Dentistry Consultations, No pressure, no sales pitch.
Frequently Asked Questions
What is gum disease?
Gum disease begins with the gums' inflammation and then advances into a more severe stage where the patient experiences various symptoms, including bleeding, pain, and tooth loss. You must see an experienced dentist at our Buderim Dental Care to treat your condition as soon as you detect any early symptoms.
Are gum diseases curable?
Yes, gum diseases are treatable. There are three stages in this gum disease –
Gingivitis
Periodontitis
Advanced periodontitis
If you approach us at an early stage, our expert dentists will offer treatments like dental cleaning to clean the plaque and tartar from your teeth and gum lining. If you happen to be in a later stage of gum disease, our dentists offer surgical procedures to fix your problems. There are different treatments for this stage, including bone grafts, soft tissue grafts, etc. For patients in an advanced stage of periodontitis and have already begun losing their teeth, our dentists use dental implants to fix the issue.
What can I do to avoid gum diseases?
Brush your teeth twice a day
Flossing is beneficial in removing bits of food caught between your teeth. It also helps in getting rid of plaque from areas that cannot be accessed by your brush's bristles.
Reduce the intake of starchy and sugary foods as they add to the plaque build-up.
Consuming foods that are rich in Vitamin A and C help in fighting against gum diseases.
Avoid smoking and chewing/consuming as they are harmful to your mouth. Gum diseases caused because of this reason may also develop into cancer at a later stage.
Antidepressants and oral contraceptives, if consumed excessively, trigger, or worsen gum diseases.
How do gum diseases impact my oral health?
The plaque and tartar build-up over your gum line is harmful to oral health. Over time it causes various symptoms such as bad breath, pain, bleeding, tooth decay, and tooth loss.
Can the gums grow back?
Gums that have been damaged by periodontitis cannot grow back. However, if checked on time, you can save the receding gums from further damage. You must get in touch with our expert dentists at Buderim Dental Care to initiate your treatment and protect your gums.
Can Sleep Dentistry offer painless treatment for gum disease?
Yes, Sleep Dentistry is a great way to undergo dental treatments for patients who suffer from dental anxieties. Sleep dentistry lets you sleep throughout the treatment process, and you wake up without any memory of your treatment. We have a skilled and knowledgeable dentists team to ensure that your sedation and treatment method is comfortable.