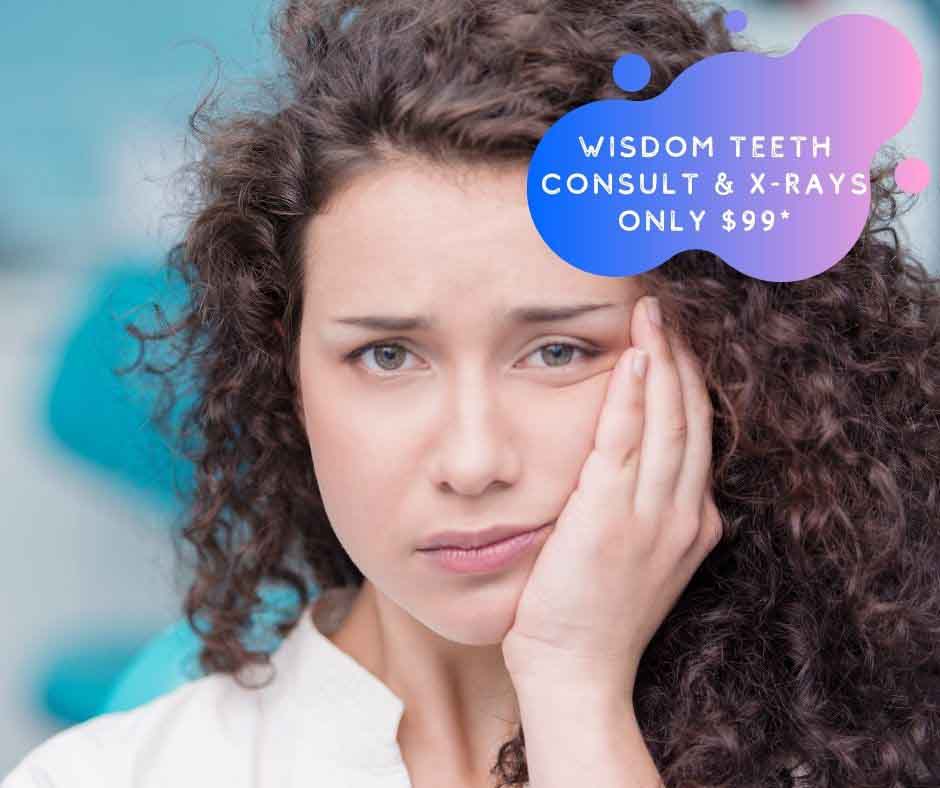 impacted wisdom teeth removal Sunshine Coast. Wisdom teeth or third molars are the final pair of molars that people usually get in their late teens or early twenties. The emergence of wisdom teeth may bring you pain or discomfort in your gums. People will usually get four wisdom teeth – two on the bottom and two on the top. Getting wisdom teeth is a common milestone in dental health, but some may face issues in its growth.
When the wisdom teeth don't have enough space to erupt they may get impacted. When the mouth of a person is too crowded, the third molars may get trapped and have a problem developing normally. This may cause you pain, oral discomfort, and sometimes bleeding gums. You must get in touch with us at Buderim Dental Care so we can book a consultation with our expert dentist.
Call our team and book a consultation for a wisdom teeth checkup, just for $99.
Types of Impacted Wisdom Teeth
Wisdom teeth may be impacted in four different ways, and extraction may not be the only way to solve the problem.
Instead of erupting normally like other teeth, the impacted wisdom tooth is vertical. However, this type of impacted tooth, when treated on time, may have a chance to erupt normally.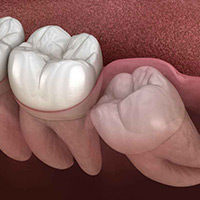 Mesial impacted wisdom tooth is tilted towards the second molar. Mesial angular impacted wisdom teeth will often leave the tooth partially erupted with just the crown visible.
Quite the opposite to mesial is distal impaction, where the wisdom tooth is tilted towards the back of the second molar. Distal impaction is uncommon, and there is a chance that they may erupt normally with treatment or care.
The most common but painful impaction of wisdom teeth is horizontal impaction. The tooth in this condition doesn't erupt at all. The dentist would require removing some parts of the jawbone to help it erupt. It requires X-Rays and thorough check-up before the dentist can help the patient
Should I Extract My Impacted Wisdom Tooth?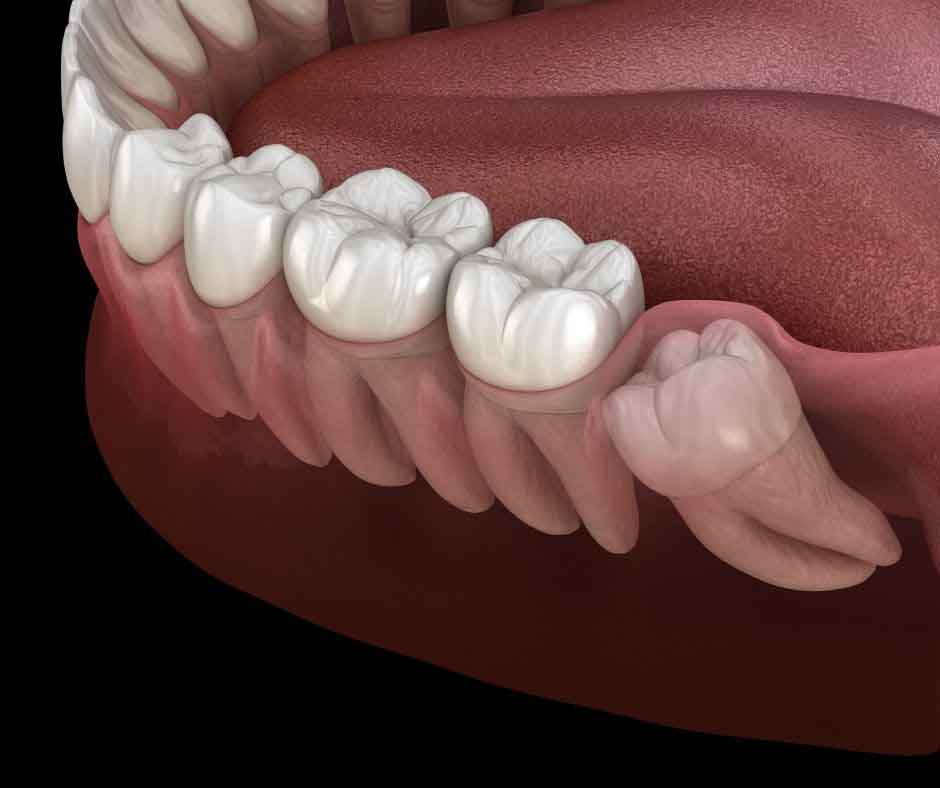 Wisdom teeth, for some, may not grow normally like the other teeth. Moreover, its misalignment causes discomfort and problems in the gums. Therefore it is best that you have it checked with our dentists at Buderim Dental Care. They can help you get it extracted. Here is why you should get your wisdom tooth removed in Buderim: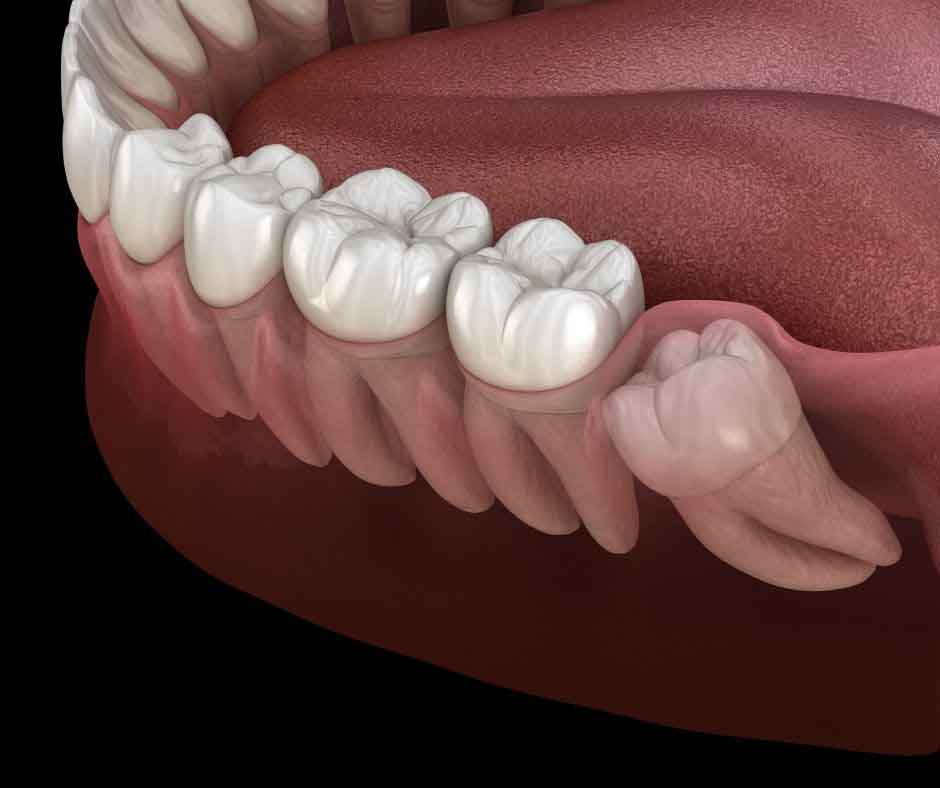 Bleeding or Inflamed Gums
Inflammation and Pain in the Jaw
Headaches and Painful Jaw
From misalignment to infection and cavities, a problematic wisdom tooth can cause a myriad of dental issues. When the wisdom tooth tries to erupt at a misaligned angle, it tends to push the second molar, causing damage to it. The second molar becomes susceptible to infection.
The wisdom tooth comes out in a sac located within the jawbone. When the tooth is impacted, the sac may fill up with fluid and form a cyst, which may damage the jawbone, nerves, and tooth. The complication requires the immediate attention of a caring dentist who may have to remove the bone and tissue.
Partially appeared wisdom teeth pose a high risk of tooth decay. This is because food easily gets trapped between the partially erupted wisdom tooth and the gum, causing bacteria to develop, which causes tooth decay. The decay in the tooth causes inflammation in the gums and becomes painful. Pain and discomfort in the gums can also cause headaches and pain in the jawbones.
Therefore, if you do not want your oral health to suffer then, you must book an appointment with our expert dentists as soon as you detect the symptoms of an impacted wisdom tooth. Delaying the extraction process can cause complications and unbearable pain.
However, our proficient dentists will determine whether or not the wisdom tooth needs to be extracted. At Buderim Dental Care, we have a team of skilled and professional dentists who will conduct a detailed analysis of your condition before commencing with an appropriate treatment plan. You can call us today to book your complimentary consultation appointment with our expert dentist today.
Why Should You Extract Your Impacted Wisdom Teeth?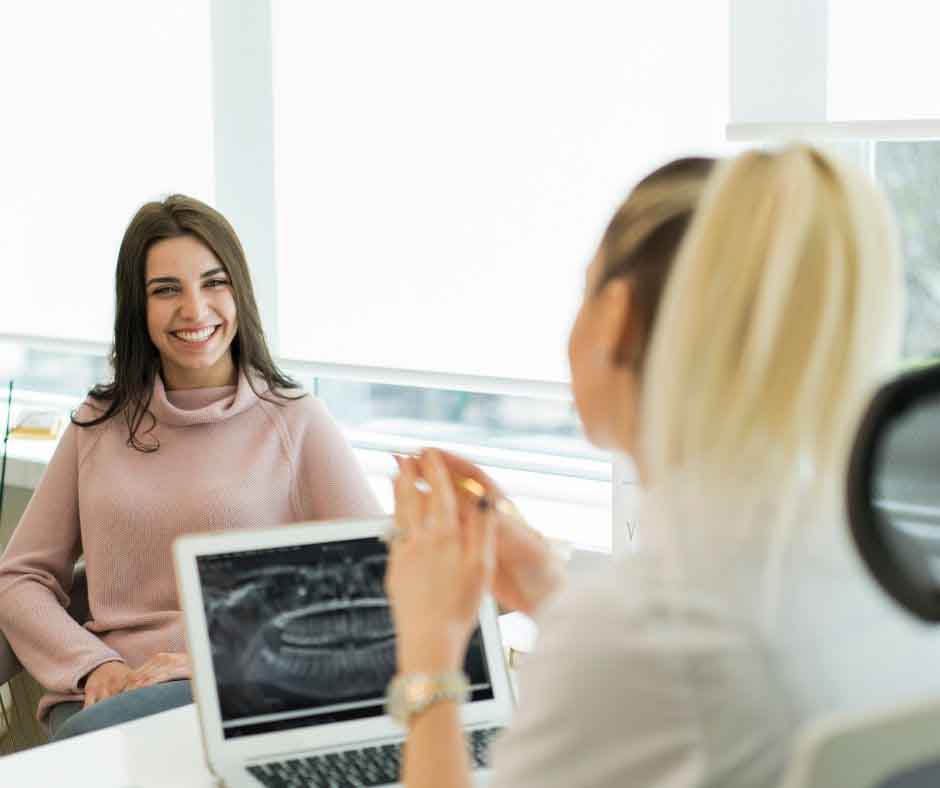 Why Should You Extract Your Impacted Wisdom Teeth?
Impacted wisdom teeth are painful and cause you uneasiness. Extraction may not necessarily be compulsory for all, but if the condition needs an extraction, then you must not delay the process. Thus, it is significant that you come visit our professional dentists at Buderim Dental Care, to understand the severity of your impacted wisdom tooth. Here are some painful oral indications that will help you comprehend your condition and help you understand if removal of the tooth is required or not:
Gum plaques or swelling on surrounding gums
Cavity formation in surrounding teeth
Pressured and painful gums
Besides the reasons mentioned above, you may also have to undergo wisdom teeth extraction if there is an orthodontic treatment that requires its removal. There are certain cosmetic surgeries for smile enhancement that require removal of the wisdom tooth to fix major or minor imperfections of your smile.
For all these problems and any other dental health concerns, our expert dentists at Buderim Dental Care will help you plan your oral treatment procedure.
What is the Right Time to Extract the Impacted Wisdom Tooth?
The sooner you remove the impacted tooth, the easier the process of extraction is. The procedure of impacted wisdom tooth removal tends to be stress-free and less painful if done before you reach the age of 25. Younger people are more likely to deal with pain and inflamed gums compared to older people.
Is there any preparation to be done before the extraction of wisdom tooth removal?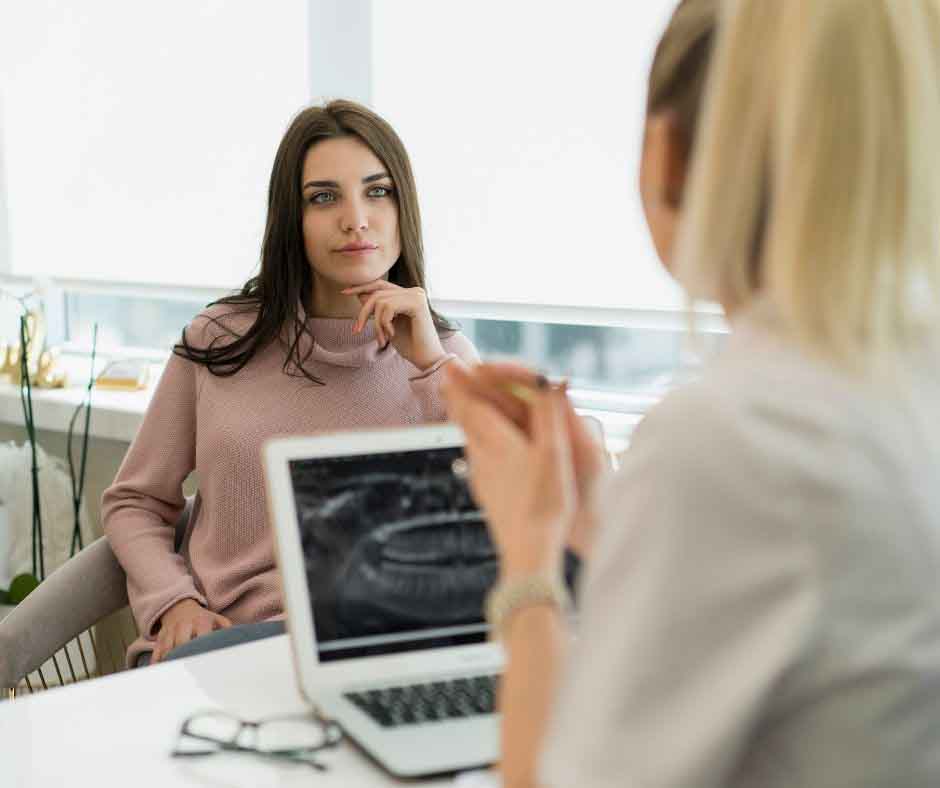 Is there any preparation to be done before the extraction of wisdom tooth removal?
The extraction of an impacted tooth depends on the complexity of the eruption and the number of teeth (surrounding) affected because of the wisdom tooth. Before our expert dentists begin their treatment process, our professional anesthetist will examine the area that will be treated. The anesthetist ensures that the patient is comfortable throughout the extraction process of the wisdom tooth.
Our dentist will advise you with a list of dos and don'ts that the patient must observe before the extraction procedure. You must abstain from consuming alcohol at least 24 hours before the removal procedure of the impacted wisdom tooth.
You must also be accompanied by someone when you are coming to Buderim Dental Care for the removal of the wisdom tooth. People suffering from dental anxiety may have to use general anesthesia or sleep dentistry to remove their wisdom teeth. Recovering from general anesthesia takes some time, and it is only wise that you have someone to drive you back home.
Sleep dentistry is conducted safely in our clinic under the supervision of expert dentists. Removal of wisdom teeth, when performed along with sleep dentistry, will let you sleep throughout the treatment process. You will have no memory of the treatment done.
What are the different set-ups for the Extraction of Impacted Wisdom Tooth?
There are two different set-ups for the extraction of wisdom tooth:
In the first set-up, the process of extraction will be performed by our dentists in our clinic at Buderim Dental Care. To ensure that you stay comfortable and experience less pain during the treatment, the area will be numbed using local anesthesia. In this situation, you will be awake and completely aware of what is happening in your surroundings. You may simply experience mild pressures when the dentist is performing the treatment.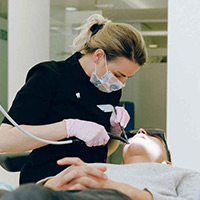 In the second set-up, the patients who experience dental anxiety are sedated. At Buderim Dental Care, we have a team of professionally skilled dentists and anesthetists who will administer the appropriate sedative. This will help you relax and calm down before the dentist begins the treatment. You will sleep comfortably throughout the treatment process and will be unable to recall anything about the treatment performed on you by our dentists.
Is the wisdom tooth extraction process costly?
Is the wisdom tooth extraction process costly?
Dental care may not be cheap but oral health is vital for overall good health for all. At Buderim Dental Care, we understand that the cost of dental treatments may be standard. However, we try to offer the treatments in accordance with the costs usually set in the dental industry. We also ensure that we offer premium services and care to all our patients who visit us for dental treatments. The actual cost of the bill may vary for every patient depending on the treatment process or the number of teeth that need to be extracted etc.
We may be able to give you a more exact approximation when you come over to us for a consultation session with our dentist. Your oral health is more important for you than the cost of the treatment. Incurring the cost of extraction now will help avoid all future costs that you may incur if the condition of your wisdom tooth becomes more complicated.
You can get in touch with us to book an appointment with our dentist to get an insight about your impacted wisdom teeth. On an average, the cost may vary between $200 and $950. Call us today!
Book a consultation with one of our amazing dental experts and get an idea about your wisdom teeth case. Our doctors will analyze the problem and if they find that your teeth are a potential problem, then it will be removed at a cost as low as $225.
5 Key Reasons Sunshine Coast Locals Choose Us
Creating Amazing Experiences
---
Get your smile and confidence back, Your smile and comfort is of utmost important to us.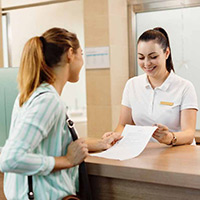 We make You Feel Delighted
---
Passionate team with customer care second to none.
We Take The Fear And Pain Out Of Dentistry
---
Sleep through your dental fears and anxiety.
Interest Free Payment Plans
Interest Free Payment Plans
Making Dentistry Affordable
---
Health fund claim, Super easy application
No-Obligation Consultations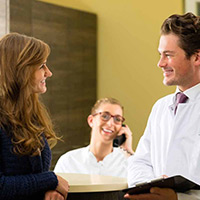 No-Obligation Consultations
Making High-Quality Dentistry Accessible To All
---
Free Cosmetic Dentistry Consultations, No pressure, no sales pitch.
Frequently Asked Questions
Why get yourself treated at Buderim Dental Care?
At Buderim Dental Care we offer treatment at the hands of caring and expert dentists who have access to state-of-art dental equipment at our clinic. Finest technology accompanied with the experience of our dentists will ensure that you get the best dental treatment for your condition. Our dentists ensure that they create a bond of trust with their patients before they can begin their treatment. Our dentists strongly believe in preventive dentistry and like to offer good oral care tips to all the patients at our clinic.
What is the cost of removing an impacted wisdom tooth?
An average tooth removal procedure may usually cost you $225. But this is just an approximation and the actual bill may vary depending on the severity of your condition and the anesthetic that you may choose while undergoing the treatment.
Are there any risks in the wisdom tooth extraction process?
While most patients recover quickly after the extraction, there are two possible risks that some patients may face:
One type of risk that a patient may develop is – 'dry socket' post-surgery. This may happen at least 3 to 4 days after the wisdom tooth has been extracted. The blood clot that should be formed after the extraction of the wisdom tooth is either dissolved or dislodged before the wound is completely healed. This tends to expose the nerves and bone beneath and will cause you pain and bad breath. You must get in touch with our dentist immediately to fix the problem.
The second type of risk is strained jaws. This happens when the wisdom teeth in the lower gum are connected to the nerves quite closely. Patients get a weird sensation in their lips. This is a temporary condition and subsides soon, but if the problem persists, you must get in touch with our dentist.
How does it feel after extracting the wisdom teeth?
After the extraction process of your wisdom tooth, the gum surrounding the tooth will be swollen. You may also experience pain and some bleeding in the area where the extraction process was performed. However, these symptoms are temporary and will heal quickly. Our caring dentists will advise you on how to take care of the area post-extraction.
What are the oral care tips for healthy teeth post-extraction of wisdom teeth?
Our expert dentists will advise you on dos and don'ts of post-extraction of wisdom teeth. Following their instructions will help in maintaining good oral health in the future. Some general guidelines recommended by them include:
If you smoke, wait for at least 72 hours after your tooth extraction before you can resume smoking again.
Avoid using a straw to sip a beverage.
Don't consume alcohol.
Rough rinsing of the mouth, blowing the nose, and spitting should be avoided for a certain number of days, as advised by the dentist.
Don't eat or drink hot foods and beverages.