A Beautiful Smile Brightens the Lives of All Who See it!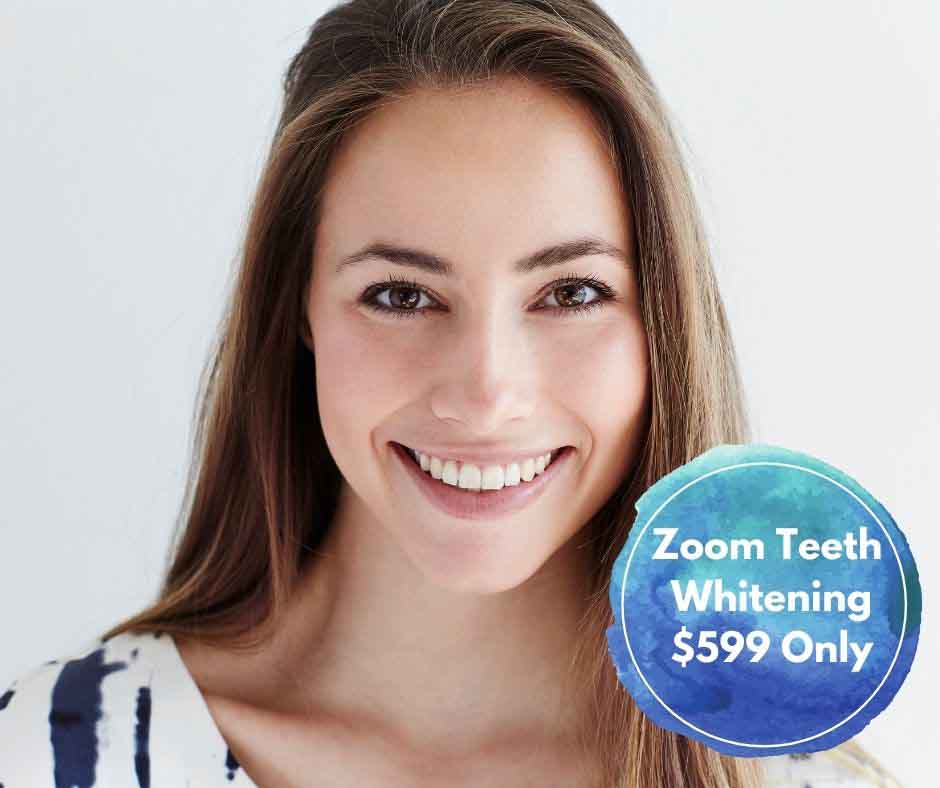 A Beautiful Smile Brightens the Lives of All Who See it!
Do you refrain from smiling because you are cautious of the look of your teeth? You once wore a confident smile for which you received compliments from almost everyone and seems to have lost its charm. Discoloured or stained teeth are a common dental issue, and with timely treatment, you can smile freely and confidently once again. At Buderim Dental Care, our smile dentists will help your teeth regain their lost shine and beauty.
"In-chair Whitening package for Just $599″ (includes take-home whitening kit valued at $249)
Just need a take-home whitening kit? get it for $249 at Buderim Dental Care today.
Teeth whitening plays an essential role in transforming your smile. You can have brighter and whiter teeth by undergoing this cosmetic dental treatment.
When undergoing the process of teeth whitening, the teeth are professionally bleached. The bleach effectively breaks down the stains and gives the teeth a lighter shade. It is an effective way of lightening the natural colour of teeth without eradicating the surface of teeth.
At Buderim Dental Care, you can use our teeth whitening services to revive your refreshing smile. We offer both in-chair and take-home whitening procedures. Irrespective of the type of course you choose, the results are indeed impressive.
Teeth Whitening Options at Buderim Dental Care in Sunshine Coast
Teeth Whitening Options at Buderim Dental Care in Sunshine Coast
At Buderim Dental Care, our smile expert dentists discuss the teeth whitening options to all our patients. You can go for the in-chair whitening process, which would take less than an hour, or you could choose a take-home teeth whitening kit and whiten your teeth comfortably at home. Our expert dentists will advise you on the kit's usage, and you need to follow their directions to get beautiful white teeth. We offer safe teeth whitening procedures at our clinic that are both budget-friendly and cost-effective.
In-Chair Teeth Whitening at Buderim Dental Care and Its Advantages
Wondering which option you should go for between in-chair treatment and take-home treatment? Here are some advantages to choosing in-chair treatment:
In-chair Zoom Whitening treatment is safe, effective, and shows immediate results that can be up to 8 shades lighter.
In-chair teeth whitening treatments are more effective than take-home whitening kits. Your bright and white teeth last longer with the teeth whitening treatment that our dentists give you at our Buderim Dental Care clinic.
Besides the in-chair Zoom Whitening process, our dentists will also give you a take-home whitening gel along with mouth splints without any extra cost. This kit can be used at home every three to six months to uphold your teeth' brightness after the whitening process. We also offer top-up gels in our clinic for our patients.
You can undergo a regular teeth whitening process after a couple of years to maintain your pearly whites.
Take-home Teeth Whitening Buderim

We understand that many patients run a tight schedule and may be unable to spare for a professional teeth whitening procedure at our clinic. However, we also want them to have beautiful pearly whites, so they too can have a healthy and confident smile. Buderim Dental Care offers customized take-home teeth whitening kits for patients who would like to whiten their teeth within the precincts of their home.
We offer whitening gel from well-known brands that are recommended by our expert dentists. If you decide to whiten your teeth using one of our take-home whitening kits, then here is what you need to do:
Even before you decide to purchase a take-home teeth whitening kit, you must consult with our dentist to assess your eligibility to undergo a teeth whitening process.
Once you get the approval for teeth whitening, you will get a custom whitening tray along with the gel. The dentist will advise you on the usage of this tray and gel.
You have to wear the whitening tray for a specific time between two and four weeks. Once you have worn the whitening trays for the specified time frame, you will find that your teeth have whitened.
What Are The Reasons Of Teeth Discolouration
Teeth may get stained for different reasons. They are caused by lifestyle choices that we make in food, beverages, and habits. Sometimes they are also caused by the medicines that we consume. Tea, coffee, wine, starchy foods, tobacco, smoking, alcohol, wine, etc., are some of the major things that cause our teeth to stain.
Most stains on teeth are caused on the surface of the teeth and are known as extrinsic. They can be removed with teeth whitening and following good oral habits. Some patients may have intrinsic discolouration where the surface below the tooth enamel is stained. For instance, absorbing excessive fluoride through toothpaste or some medication may cause permanent damage to the tooth surface.
Why Do I Need Take-Home Teeth Whitening Kits?
Why Do I Need Take-Home Teeth Whitening Kits?
Teeth whitening kits are both easy to use, and the results are quite useful. They are also cost-effective and are possible to do from the comforts of your home. The equipment is easy to use and will give you the desired shade of your teeth.
Benefits Of Teeth Whitening
Bright and White Smile
You can achieve up to eight shades lighter in just 45 minutes with the help of Zoom Teeth Whitening.
Boost Confidence
Your smile is the key to your confidence and self-esteem. Having a beautiful smile can help your professional and personal life to become more enjoyable.
Look Beautiful and Feel Younger
A beautiful set of teeth can make you look much younger than you are. Looking young also makes you feel young – life is short, and we must smile, not just for others but also for ourselves.
The Teeth Whitening Process in Buderim

Before you opt for the teeth whitening process, our expert dentists will examine your teeth to ensure that they can undergo the procedure. Depending on your teeth' current condition, they will show you a simulation of the final result, and you can choose the shade of your teeth that you desire. The dentist will click a picture of your teeth first. You can then compare the before and after results of the process.
After the detailed obligatory consultation, our dentist experts execute the teeth whitening procedure in the following manner
The Buderim dentists will prepare your teeth for the whitening process by removing build-up or stains over your teeth.
A layer of whitening gel is then applied over the teeth by our expert smile dentist.
The dentist will then focus the WhiteSpeed blue L.E.D light to activate the bleaching agent present in the gel.
Our expert dentists repeat the process for three consecutive times, and each time it lasts for 15 minutes. Thus, the entire procedure lasts for 45 minutes.
Once the teeth whitening process gets completed, a post-treatment gel is applied to your teeth. The gel protects your enamel and prevents teeth sensitivity.
You will also receive customized whitening trays along with a home whitening kit. It is included in the Zoom Whitening treatment and will help you maintain your bright and white teeth.
Call Buderim Dental Care today to book an appointment with our skilled dentists. Our initial consultation is free. This consultation with the dentist also helps determine whether or not you can undergo the teeth whitening process. Some patients suffer from gum disease or tooth decay, which is a must to treat first. Undergoing teeth whitening with poor oral health may cause complications. Therefore we recommend you consult with our dentist first.
Book Your Free Smile Makeover Consultation with Sunshine Coast's Most recommended Dentists
Frequently Asked Questions
Who can undergo teeth whitening?
Anyone who has discoloured or stained teeth can undergo the process of teeth whitening. One must have healthy gums and teeth to be eligible for Zoom Teeth Whitening. Our dentists will help in determining the health of your teeth during your appointment. Intrinsically caused discolouration offers other dental treatments such as crowns and veneers.
Are over-the-counter teeth whitening kits similar to take-home teeth whitening given at your clinic?
No, take-home whitening kits provided by us are customized trays made according to the make of your teeth and ensure optimum performance. The gel provided is according to the shade you desire, and our dentist will advise you on how to use it correctly.
On the other hand, over-the-counter teeth whitening kits follow a general procedure to prepare. Our teeth whitening kits are given only after a dentist's consultation process, but these kits can be purchased by anyone. You may not have the right knowledge on its usage and may end up damaging your teeth.
Do the patients experience pain or discomfort while undergoing teeth whitening?
The process of teeth whitening is not painful. Patients do not experience any pain or discomfort while undergoing treatment. However, if you suffer from dental anxiety or ache, you can opt for sleep dentistry or sedation dentistry. You can pick – general anaesthesia, IV sedation, happy gas, oral sedation, and sedation through inhalation.
How long does the effect of Zoom teeth whitening last?
The effects of teeth whitening are not permanent. You might have to come back for the teeth whitening process in a couple of years to maintain the shade of your teeth. It also depends on the lifestyle you lead – if you expose your teeth to too many foods that stain your teeth, then the whitening process will not last long. If you follow a healthy lifestyle and make the right choice in your foods and follow oral care, then the effect will last longer.
What is the cost of the Teeth Whitening procedure at Buderim Dental Care?
At Buderim Dental Care, you can avail the Zoom Teeth Whitening process for $599. The procedure will help you get up to 8 shades lighter than your original teeth. You will also get top-up whitening gel and mouth splints to use at home. It will help in retaining the effect of your teeth whitening.
For more details on teeth whitening or other dental treatments, call us on our number to book an appointment with us for a free consultation with our dentist.