Treatment of Worn-Down Teeth at Buderim Dental Care
Treatment of Worn-Down Teeth at Buderim Dental Care
Have you noticed that your teeth are looking shorter than they actually are? The loss of tooth surface caused by reasons other than decay or injury is known as tooth wear. Usually, some amount of wear and tear of teeth is normal, but it is considered a problem when this wear and tear goes beyond the scope of normal. Lifestyle habits significantly impact the wear and tear of teeth. Worn down teeth can substantially affect the chewing ability, aesthetics, and also painful once the wear causes the nerve to be exposed.
Worn down teeth can be easily identified by pain in teeth and the inability to bite in with the strength as you usually do. These are some early symptoms that should be immediately addressed by visiting our dentists at Buderim Dental Care. Our clinic offers dental treatments with advanced technology and will help fix the worn-down teeth with a natural look and feel.
What are the Main Causes of Wear and Tear in Teeth?
The process of natural wear and tear begins when we get older. As we advance with our age, the tooth enamel begins to wear down. The size of our teeth naturally decreases by about 1 millimeter because of the natural chewing and grinding process by the time we reach the age of 40. This is referred to as Attrition. However, there are other reasons besides Attrition that fast-track the process of wear and tear of teeth. They are mentioned below:
3 Major causes of teeth wear
It is a condition that may occur in both adults and children where the patients involuntarily grind their teeth. While patients suffer from this mostly at night, it may also happen in the morning. Bruxism is a result of the unusual positioning of the jaw because of anxiety or stress. Since bruxism occurs involuntarily, it cannot be stopped by medicines; therefore, dentists advice patients to use night guards over their teeth. The wear and tear of teeth can be stopped using a night guard only if the problem is detected early. For patients whose teeth have apparent damage can use other restorative methods to get back the natural look of their teeth.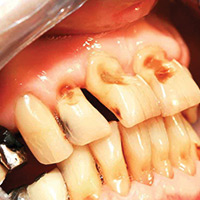 When wear and tear of teeth happen because of the incorrect way of brushing, excessive brushing, or using a brush with stiff bristles, it is termed as abrasion. Usage of mouthwash and toothpaste consisting of certain chemicals may also cause abrasion of teeth.
When the cause of worn teeth is acid, it is known as teeth erosion and is one of the significant reasons for wear and tear of teeth. All sugary foods, processed foods, sodas, beverages, along with some more foods, are high in acid. The acid present in the foods tend to dissolve the enamel and dentin of the teeth. Teeth erosion is a lifestyle problem and can be decelerated by selecting the right foods.
What are the Problems that One May Face Because of Worn-Down Teeth?
Worn-down teeth are usually detected by patients when they observe their teeth to have become smaller than before. Some may also find their teeth to have flat or sharp concave edges. Many problems are usually not seen immediately, but with time, they get visible and painful too. Here are some problems that people with worn-down teeth may suffer from:
The enamel of teeth has a white hue, while the dentin located just below the enamel is yellow or yellowish. The dentin provides support to the enamel, and with wear and tear when the enamel wears away from the teeth, the dentin becomes visible. With the dentin evidently open, the colour of your teeth also begins to look yellowish.
With continuous wear and tear, the enamel exposes the nerve endings. When you consume foods that are very hot or cold, then it causes sudden pain in your mouth.
Headaches, Jaw pain and difficulty biting
Headaches, Jaw pain and difficulty biting
Teeth that have been worn down excessively don't come together for biting or chewing as they should. Tt tends to strain your jaw and causes pain in the jaws and headaches.
Treatments to fix worn-down teeth in Buderim
Treatments to fix worn-down teeth in Buderim
We have a team of caring and expert dentists to evaluate the condition of your worn-down teeth. After analysing your teeth in our free consultation session, they will offer you treatment plans that best suit your oral condition.
Besides the teeth restoration treatments, our gentle dentists will also advise you with some tips to maintain good oral health and avoid further wear and tear of teeth.
Buderim Dental Care is equipped with the most advanced technologies in the field of dentistry. Our dentists have received the most recent training in the usage of state-of-art techniques in dentistry. We will help to restore your worn-down teeth and help you get a natural-looking set of beautiful teeth.
Dental Treatments Offered at Buderim Dental Care
Our dentists offer different solutions to fix worn-down teeth depending on the condition of the teeth. However, three solutions are popularly used on patients to fix worn-down teeth problems:
Dental Bonding is the process in which tooth-coloured resin material is applied and then hardened using a special light, to bond the material firmly to the tooth/teeth. Dental bonding works best for teeth that have eroded in smaller amounts and are located in the isolated parts of the mouth.
Teeth that are badly worn down need to be fitted with bridges and crowns to restore their natural look. The crowns and bridges, too, are made of resin and provide support to the teeth. This helps in stopping the teeth from chipping or cracking in the future
Patients who are suffering from bruxism are advised to use a nightguard. Our dentists will explain in detail about its usage. The night guard helps in protecting the teeth from further wear and tear.
Should the problem of worn-out teeth be overlooked?
Worn down teeth, once detected, should immediately be treated. If you overlook the problem, then the problem may lead to other severe dental issues like temporomandibular disorder (TMD). It is a severe disorder that makes jaw movement both painful and problematic. Besides impacting your appearance, it also affects your speech and eating functions.
As soon as you discover that your teeth have worn down, you must give us a call and book an appointment with one of our expert dentists. We offer obligatory consultation sessions where you can discuss your problem and the solutions too. Timely treatment will help in upholding the authenticity of your natural teeth.
What is the Cost of Fixing Worn Down Teeth in Sunshine Coast?
What is the Cost of Fixing Worn Down Teeth in Sunshine Coast?
Every patient's condition is different from that of the other. Their level of severity of worn-down teeth will also be different. Therefore, it is best that you book an appointment with us at Buderim Dental Care. During your consultation session, our dentist will evaluate your condition and reveal the type of treatment that will best suit your issue. On an average, the cost of treating worn down teeth begins at $300 – $500.
Book Your Free Smile Makeover Consultation with Sunshine Coast's Most recommended Dentists
5 Key Reasons Sunshine Coast Locals Choose Us
Creating Amazing Experiences
---
Get your smile and confidence back, Your smile and comfort is of utmost important to us.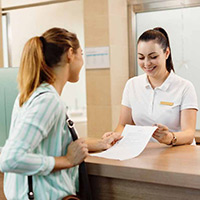 We make You Feel Delighted
---
Passionate team with customer care second to none.
We Take The Fear And Pain Out Of Dentistry
---
Sleep through your dental fears and anxiety.
Interest Free Payment Plans
Interest Free Payment Plans
Making Dentistry Affordable
---
Health fund claim, Super easy application
No-Obligation Consultations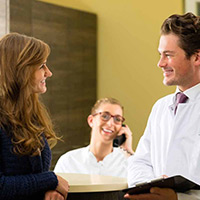 No-Obligation Consultations
Making High-Quality Dentistry Accessible To All
---
Free Cosmetic Dentistry Consultations, No pressure, no sales pitch.
Frequently Asked Questions
What contributes to the formation of worn-down teeth?
Wear and tear of teeth is a natural phenomenon that is caused because of the grinding and chewing of our teeth when we eat food. But for some, there are other factors that hasten this process because of some habits. It includes abrasion and erosion because of the consumption of acidic foods and beverages. Another reason is bruxism, which is caused because of anxiety and stress.
Is bruxism the main reason for worn-out teeth?
Bruxism is one of the reasons which cause worn down teeth. It is the involuntary grinding of teeth that is caused because of anxiety and stress. Bruxism usually happens at night, but there are many people who happen to grind their teeth during the day also.
What are the symptoms of worn-down teeth?
Worn-down teeth will look shorter than their natural length. They might also have flat and sharp edges that may look darkened or yellowish in colour.
To understand your condition in detail, you must book an appointment with our expert dentist.
Can I fix the worn-down teeth?
Yes, worn down teeth can be fixed by our skilled dentists. However, the type of treatment that your condition may need will be determined by our dentist. Teeth that are lesser damaged will be treated differently than the set of teeth that are severely damaged. The most common procedures used by our dentists include dental bonding, crowns and bridges, and night guard to protect against grinding and clenching at night.
Can worn down teeth be treated with sleep dentistry?
Yes, if you suffer from dental anxieties or are afraid that the treatments might cause you pain and discomfort, then you can opt to be treated with sleep dentistry. We also have other sedation methods to ensure that your visit to our clinic is comfortable and happy. At Buderim Dental Care, we look forward to providing premium services to our patients.